Body
Mechanics
BODY MECHANICS or BM as it is informally known as, is the brain child of Sunny Gambhir, Sanjeet Gulati and Akshay Chopra. The concept of BODY MECHANICS took extensive research to develop. The phenomenal growth of the Fitness Industry is not just the reason behind BM. In the recent years numerous gyms and fitness centers have mushroomed across the country. But the problem is the absolute lack of technical know how, limited knowledge about the concepts of various components of fitness and nutrition, and opening of such centers just for profit.
The aim of BM was to clear the myths and misconceptions in the field of fitness and nutrition from the minds of clients and coaches alike and build trust as the base for the entire model.
BM has had record breaking enrollments and sales figures, along with probably the best customer retention and renewal throughout, simply because of the strictly controlled professional environment, extremely competitive pricing and incomparable high valued services.
One of the worst examples today in the Indian fitness industry are the trainers and coaches. Most of them are simply high school pass outs, with hardly any practical or theoretical experience in the field of fitness.
Body Mechanics took all these and many more aspects in mind and came up with the concept of amazing quality and services at affordable pricing and phenomenal training concepts using unconventional object training like heavy ropes, sandbags, chains, tires, slam and medicine balls, suspension training, loaded carries, agility ladder and cones, stepper workouts and a lot more along with the use of traditional strength training and cardio equipment.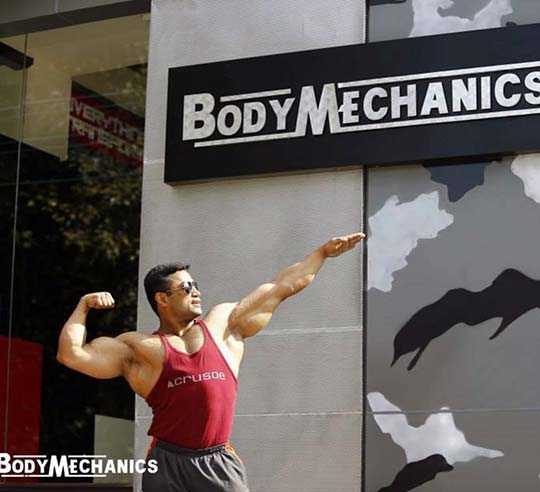 Body Mechanics has created a revolution of sorts in the fitness market by evolving trends and concepts never used before:
First ever touch screen Individualized Automated Workout System or BM AWS system for the clients and coaches to reduce errors, increase productivity and reduce client-coach interaction time.
Inculcation of regular unique bootcamp sessions for group classes, along with other group classes.
Inculcation of Animal Movements which have been brought by Akshay Chopra himself, directly from the defence forces.
First virtual gaming concept for cycling/spinning.
The best part of Body Mechanics is its team. The trainers undergo a 3 step selection process where they are checked for their technical know-how, Experience, Outlook Towards Clients, Personal Fitness, Communication Skills etc. Before they formally start training personal clients they are mentored under a senior trainer who has been Trained by Akshay Chopra himself. They are also among the best paid trainers in the country and people you can rely upon when needed.
A WORD ABOUT
THE DIRECTORS
Sunny Gambhir (Director and CEO): Sunny comes with an extensive background in business and finance. After graduating with a law degree he successfully ran the Sharekhan franchise and was among the top 10 franchise across the country, from a total of over 1500. He then partnered with Sanjeet and Akshay to start the BM revolution.
Sanjeet Gulati (Director and Coo): An engineer by chance, but a maverick businessman by choice, Sanjeet has his expertise in the field of raw materials and construction. He forms the backbone of Body Mechanics projects and operations, and gives BM a big advantage in maintaining a healthy bottom line.