Recently there an extremely disrespectful incident took place at the 2022 National Bodybuilding Championships in Dhaka, Bangladesh, when a bodybuilder – Jahid Hasan Shuvo – became viral instantly after he kicked his prize.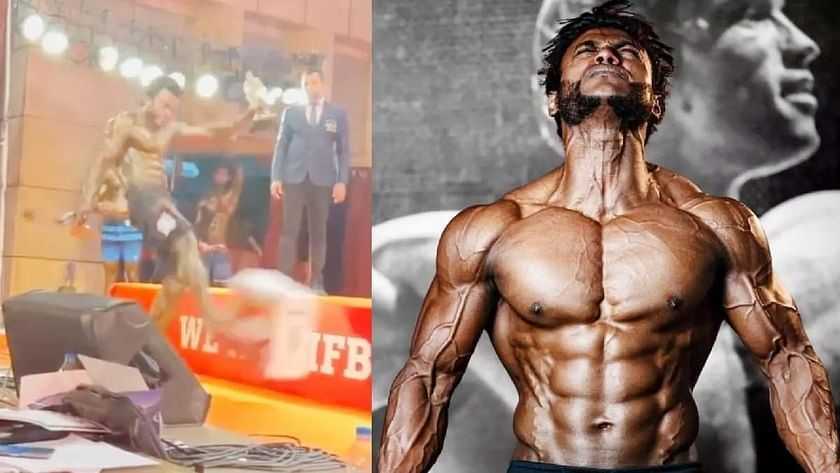 What was even more disgraceful was that, this bodybuilder was a three-time winner of the national title before, and could not take it, that he has been placed second, by the judges.
Acc. to him, it was against the match fixing the judges had done. But the federation took a strict stand this time, and banned him for life.
But such incidents are on the rise, and you can see such protests in virtually every other bodybuilding competition. There have been increasing cases of fights, arguments, and disrespectful behaviour in bodybuilding competitions.
I have been a part of this game for almost 15 years, and have been in various other sports, for over 2 decades. But never have I seen or heard of such rude and uncivilized behaviours as they are commonly seen now.
Let me narrate an incident which happened with me personally. It was a district competition in one of the states I used to compete in. I was a clear overall winner of the title, from the very first time I stepped on stage, for the pre-judging. I knew it, judges knew it, people around me knew it.
But when I was fighting for the title, and the winner name was announced, it was a guy, who was much less muscular, lower in size, and inexperienced than me, who was announced as the title winner. The result was so shocking, that the entire crowd went quite. There was no one cheering for the winner, they couldn't believe the judge's decision.
I felt bad, and was hurt. A lot of my friends and majority of the crowd was ready to protest, and even fight if needed, as they wanted me to get the title, as I rightfully deserved. The judges were actually looking worried, as they knew what they have done and why.
But I stopped everyone from taking any wrong action. My next step was even more shocking, for the audience. I went back on the stage, and gracefully congratulated the young winner. The judges was really surprised, and almost all of them, apologized to me for the result, and told me that the reason for the wrong result.
Even today, they talk about how respectful and polite I was, when something wrong was done to me. I guess, this is what I called sportsman spirit. Something I had learned way before I entered bodybuilding.
Now, I am not trying to boast of my behaviour, but I have seen similar acts by a number of senior players, who accept their defeat gracefully, even if they think the decision was unfair. Forget about lower level competitions, top players have felt the same, number of times at national and international events. And it hurts them even more, as to reach that stage, they have endured decades of hardships. But they know, there is always another day, and their self-respect and dignity is much more valuable
Why? Shouldn't they fight against it? The answer can be yes, if you don't really understand the meaning of sportsmen spirit.
These senior athletes don't believe in fighting or abusing, but proving the people their worth, through actions and results. If you think, the decision of judges in a district or state competition has been unfair to you, then aim high to reach the nationals and win their. Then no one will be able to touch you at the lower levels.
This is exactly what happened with me. I worked so hard, that when I returned after 1 year, they requested me not to participate in the district and even state competition, and instead asked me to do guest posing for audience. I participated in the nationals, from the state, without competing in any lower level competition that year. I didn't have anything to prove anyone.
Top players have gone through multiple defeats to emerge as a real winner. Rightly said by Michael Johnson: